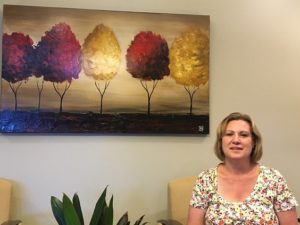 Donna Fial is the Office Coordinator at Brown & Kelly LLP. Donna has a diversified role in the office and no day is like any other. Her duties include (but are not limited to): overseeing the filing system, opening and closing files, reception coverage, filing documents with the various courts, making general deliveries, monitoring and ordering office and kitchen supplies, making copies and scanning documents as needed, assisting in the organization of medical records and providing assistance to the Controller/Office Manager.
"I'm an early bird, so I like to get in the office first thing in the morning, and get a heads up on the day." Mrs. Fial says. "I don't sit at my desk all day, and that is what I enjoy most about my job. Working as a team is important, and if you can help someone with a project, it truly makes for a better work environment."
Donna graduated from Villa Maria High School with a Business/Office Studies Major.
In August of 2017, Mrs. Fial will be celebrating 35 years at Brown & Kelly. Mrs. Fial remembers, "I had no office or legal experience of any kind, and am grateful for the chance Brown & Kelly gave me."
In her spare time, Mrs. Fial enjoys spending time going to antiques markets with her husband Mark, gardening, reading, and spoiling her dog Lucky.
Brown & Kelly is honored to have such a loyal employee as part of its firm, team and family. She is the epitome of dedication.
"10 Things" with Donna Fial:
1. If you could have any other profession than working in an office, what would it be? I love going to antique markets and gift shops, so I would love to own my own shop with lots of Kitschy Items
2. Pet? 1 dog Lucky (a mix breed Chihuahua/terrier from the Buffalo Animal Shelter)
3. Bucket List Wish? I'd love to get an RV and see the entire United States with my husband. No Thruways or expensive hotels, just the real sites and roads.
4. Favorite Place you've ever visited? Disney World
5. Worst subject in High School? Math
6. Favorite restaurant in Buffalo? La Bella Sicilia
7. Place you'd most like to visit? Germany (I would like to see what is called the Christkindlmarket- this is a shopping market held in Germany for the holiday season)
8. Favorite Food? French Fries & Gravy
9. Favorite thing about living in Buffalo? The People (we are truly the "City of Good Neighbors"
10. Least favorite thing about living in Buffalo? Shoveling Snow.