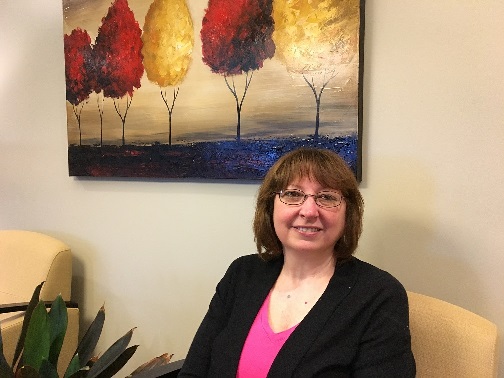 Jacquelyn (Jackie) Baumann, Administrative/Legal Assistant to one of the Managing Partners and the Senior Trial Attorney, has been employed with Brown & Kelly for 33 years.
Some of Jackie's regular job duties include: preparing and processing Supreme and Federal Court documents and correspondence; providing assistance to attorneys for court appearances and depositions; organizing attorneys' discovery and medical records; monitoring various legal websites; performing internet research including filing procedures; and serving as the legal events coordinator for extracurricular attorney activities. "I am always willing to help with any phase of a project in the office. Team work is vital and I feel we are an effective team."
Jackie is a graduate of John F. Kennedy High School and Bryant & Stratton College (Administrative/Legal Assistant Associate's Degree). "I have always been drawn to the legal field," Jackie says. "I feel a sense of pride and satisfaction when I know we have helped someone."
In her spare time, she likes to play general/music trivia with her husband, Bob; gardening; baking; reading/watching Jane Austin fiction; Adventure fiction and Adult Science fiction; and enjoys the company of people who have a good sense of humor and can make her laugh.
Fun Facts You May or May Not Know About Jackie:
1. My sister and I share a birthday but are 6 years apart in age.
2. I was named after Ms. America 1963, Jacquelyn Mayer.
3. I went to Bryant & Stratton with the intention of studying Travel and Tourism to become a travel agent, but changed my mind at the last minute.
4. A few of my favorite travel destinations have been: Hawaii, England, Jamaica, St. Maarten, St. Thomas, Cayman Islands and will be traveling to Alaska in the near future.
5. Bucket List Item: A 2 week Viking River Cruise through Europe.
6. Favorite food: poutine. (French fries with gravy and cheese curds. Thank you Canada!!)
7. Favorite things about living in Buffalo are: summer festivals, Shakespeare in Delaware Park, the Transit Drive-In, and the fall colors.
8. Favorite cocktail: BBC/Havanas and Bananas at Margaritaville.
9. Favorite restaurant: P.F. Chang's.
10. Favorite Movie: Pride and Prejudice
11. Favorite TV Show: Game of Thrones (Hail Jon Snow, King of the North!!)
Quotes:
"Friends are like snowflakes…all different and all beautiful." – Author Unknown"To be rich in family and friends is to be poor in nothing." – A take on a Lilian Whiting quote